I trust that we have all been in a situation where our stomachs begin to rumble, but our tight schedule doesn't allow for a snack that takes ages to prepare. Instead of giving in to your cravings and having something sweet and savory, why not concentrate on the task at hand. What if you could make a satisfying, delicious and healthy five minutes snacks. Below is a list identifying healthy five minutes snacks that you can prepare.
Cinnamon apple dessert
This sweet dish takes 2 minutes tops to prepare. The sweetness of cinnamon and warm apples is irresistible. All you need are apples, cinnamon, and a microwave to give it its delicious, hot, and gooey consistency. This sweet snack also packs lots of nutrients. Lots of vitamins come from the apple, and loads of fiber come from the cinnamon.
Chopped chickpea salad
This is a very colorful and flavorful dish that takes less than 5 minutes to whip up. The beauty of the dish makes it catchy and irresistible. It is low in fats and delectable. The dish is also a good accompaniment for small gatherings or dinner parties.
Caramelized nuts
Nuts are known to be very healthy. They pack lots of fiber and are very low in unhealthy fats, but sometimes they don't satisfy the urge to have something sweet. Just slap some warm caramel on your handful of nuts. This is a perfect snack to keep you going during those 3PMs of hunger.
Rainbow salad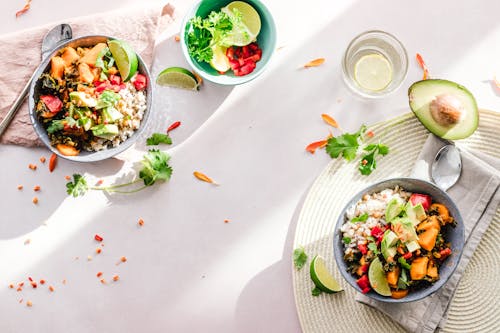 Not all snacks have to thrive in the area of sweetness. This rainbow salad contains only healthy ingredients like carrots and pecans. Rainbow salads take less than 5 minutes to prepare. The crunch and nature of the delicacy make it a family favorite.
Lemon fudge
The majority of people don't identify lemon fudge as a snack, but it turns out to be one of the favorites of young children. These little squares of deliciousness come in handy when you're hungry between meals. They also make for a great dessert. You can also incorporate lemon fudge into party snacks.
Vegan tacos
These easy 5 minute tacos are filled with vegetables but not lacking anything. They are flavorful, healthy, and easy to whip up. Some ingredients include sweet corn, cabbage, beans, tomatoes, etc. This snack provides lots of nutrients to the body and also helps in weight loss.
Whole-wheat pancakes
A quick breakfast snack suitable for all ages. This delicacy thrives in the area of both healthiness and tastiness. Always go for whole wheat flour when making this. It is a better choice compared to refined flour. You can enjoy whole-wheat pancakes on their own or with fresh fruits and maple syrup.
Cake-batter frozen yogurt
This snack is for those craving something sweet and easy to make. Once you have a taste of this, you might decide never to have ice cream again. It's just that good. You can prepare this yogurt on special occasions, be use it as a dessert, or celebrate someone special.
Potato chips
This healthy snack is made of sweet potatoes. It is preferable to go for these instead of store-bought, which are mostly made of refined ingredients. When made correctly, potato chips are very crunchy and light with enough sweetness and salt.
Frozen yogurt berry bites
This treat is made of Greek yogurt and, from the name, fresh berries. Choke up a scoop of Greek yogurt with some sliced berries and freeze them into little cubes. The berries can be mixed up or made independently based on your preference. This snack is extremely healthy and perfect for children.
Poached egg and avocado toast
Avocado toast is a meal on its own, but adding poached eggs takes it to a whole new level of sweetness and completes the trio of nutrition; protein, fat, and carbs.
Oatmeal yogurt blueberry pancakes
A heap of pancakes does not take many minutes to make. Oatmeal pancakes are delicious, high in protein, and gluten-free. The blueberries and yogurt make it very soft, fluffy, and sweet, giving it an irresistible taste.
There you have it. This list encompasses a few out all the great and healthy five minutes snacks that you can make. Instead of settling for store-bought snacks, you should go for any of these.